Understanding How Users Seek out Products
With a mission to align their marketing website and their position as a forward-thinking independent leader, they looked to us for guidance on how to consolidate their sub-brands under the Nature's Path umbrella despite their different target audiences.
Hunting for Food
When it came down to finding products, there were two clear pathways. First, we designed a smart filter system which allowed users to choose between category, brand, dietary restriction, or a combination of each, narrowing down the filter options to ensure users could find what they wanted with optimum ease and simplicity.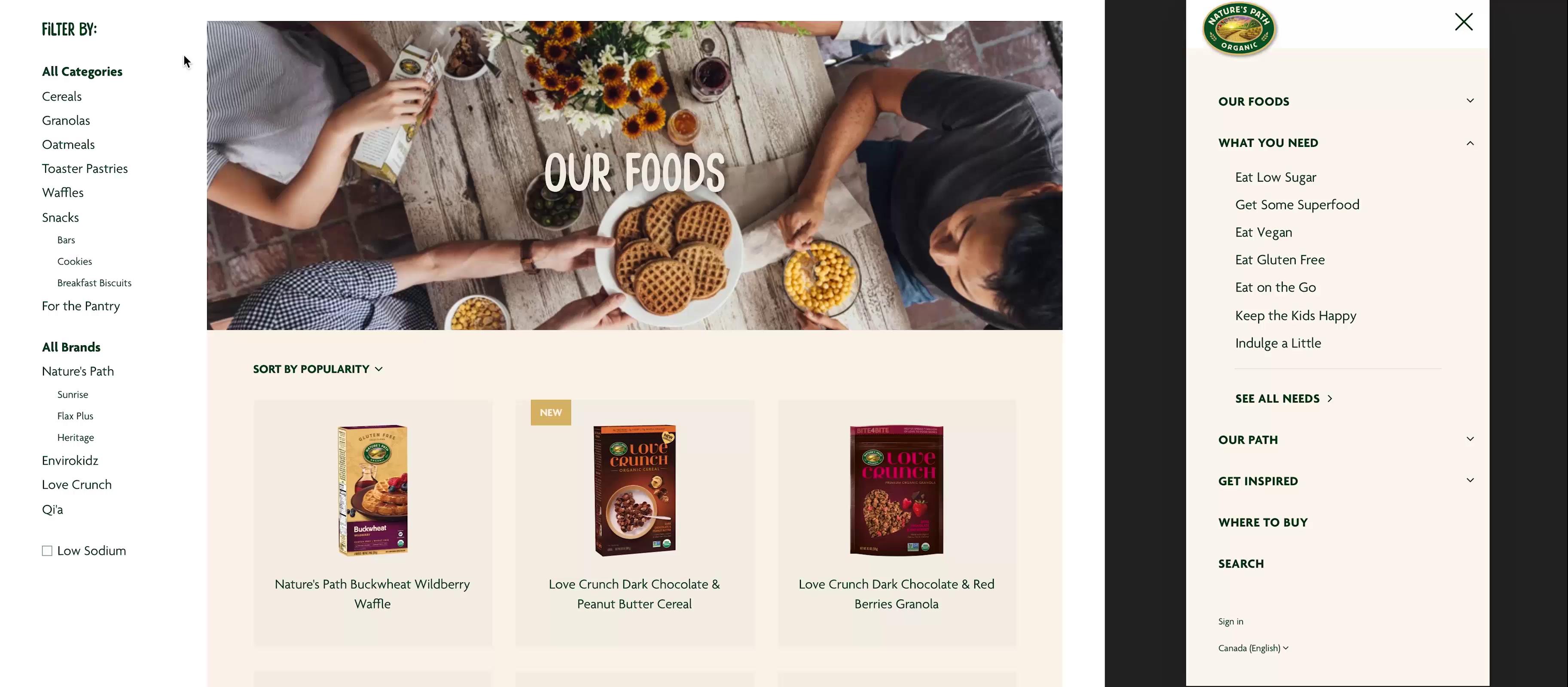 Secondly, for those who were unsure what they were looking for, we set out to educate those users by allowing them to explore not only products, but other core content to help them better achieve their lifestyle goals. Whether it be eating gluten free or finding ways to keep the kids happy.

Branded House or House of Brands?
In order for each sub-brand to retain their own unique identity, we built a way for pages to be associated directly with a sub-brand bringing in their associated brand colours and fonts. Combined with strong tailored messaging and art directed media to suit each category, each brand page is able to showcase their own personalities.
Seamless Integrations
One of the most complex technical considerations was integrating with Nature's Path's existing Ecommerce platform for their US audience and ensuring users could smoothly journey through the path to purchase without a perceived disruption of jumping to a whole new site.

Our proposed solution was to embed an iframe from the shopping platform on the product page within our marketing site. We collaborated closely with the integration partner to work around any technical limitations to make it happen. Nature's Path is thrilled by this enhanced experience for their users.

In addition, the new website needed to be multi-regional (versions for US, Canada, Mexico, France, UK) and multilingual (English, French, Spanish), and integrate with Destini store locator (US), a contact center CRM system, cloud-based translation platform, product reviews integration, and a job listings service.

The Fun and Playful Spirit of Que Pasa
To add an extra challenge to this project, our client wanted to use the framework created for the Nature's Path website in order to build a separate stand-alone site for Que Pasa, a fast-growing producer of organic tortilla chips and salsa, acquired by Nature's Path in 2012.
Keeping the requirements in mind throughout the process, we were able to successfully use the same template to achieve their key goals.