The skoah experience
In the previous site, the key friction area was that buying skoah products, memberships and services were treated all differently – housed on different platforms. Further, related blog content and locations pages, while part of the experience, were not as integrated as they could be – limiting personalization.
With the new site, our primary focus was to allow users to easily book facials (services) and buy products. We improved the user experience by consolidating services and products and also moving supporting content – all to live in Shopify Plus. By doing so, we were able to create a more intuitive and cohesive shopping experience – allowing skoah to seamlessly create and cross-merchandise product and service collections around user needs.

Roadmap to healthy skin
We began our process by asking the question: How might we better translate the in-store skoah experience to the digital space? Our research, (luckily for the team) involved getting a skoah facial; using skoah product; interviewing their knowledgeable skincare trainers; as well as pouring over sales and website data. We found personalization was key, with each treatment being highly bespoke to customers' skin, routine and preferences.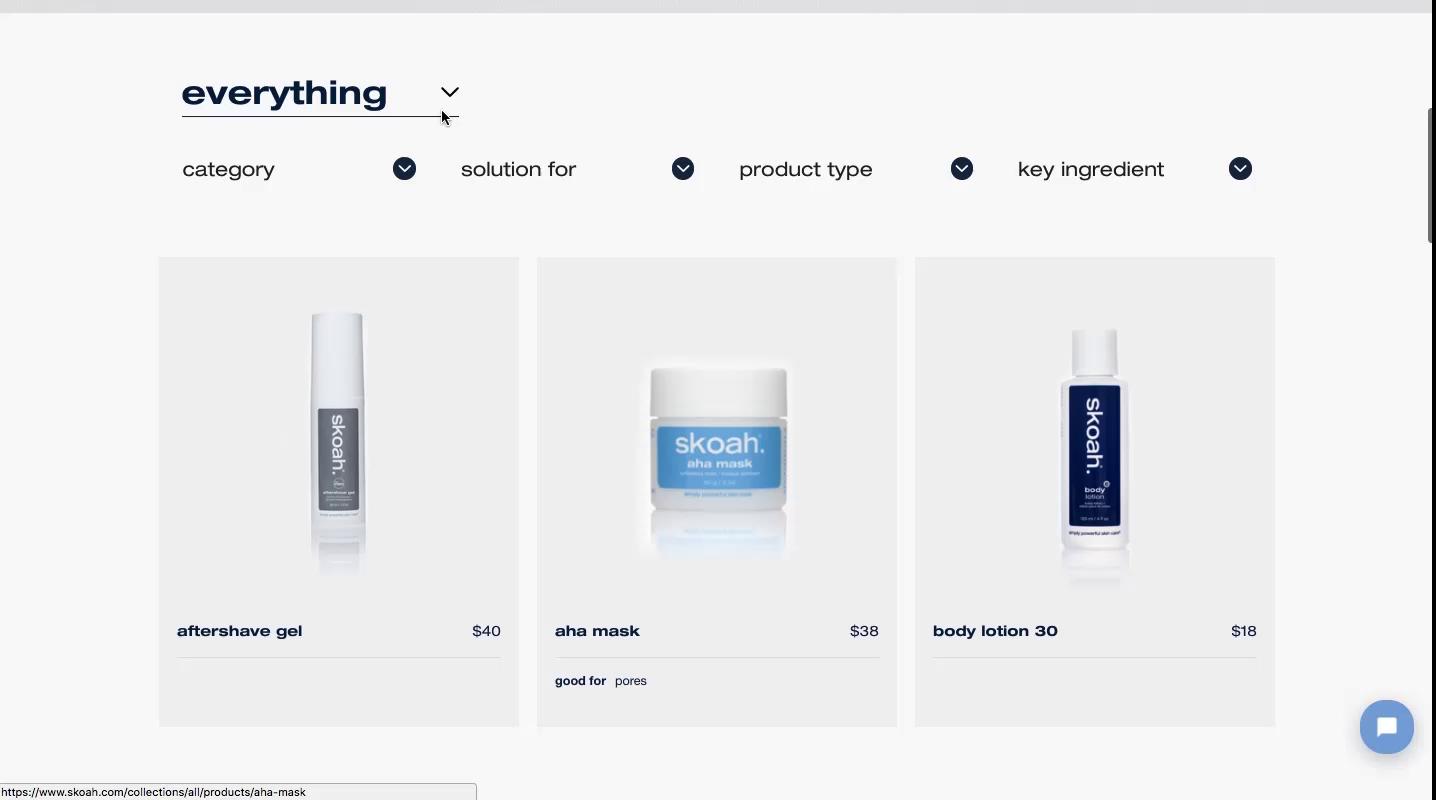 This research insight was taken to the site. We created customer focused categorization and structure for the navigation, as well as implemented a tailored cross-category filtering system, optimized for mobile. This allows users to narrow down their search by category, type, solution and key ingredients.
Getting the most out of Shopify Plus
To revamp the skoah Shopify Plus sites (US and Canadian stores), we prototyped numerous themes and apps before selecting the best combinations based on user experience, technical criteria, risk assessment and admin needs. To ensure that the site both visually and functionally provided a personalized experience, we set about adding in highly customized improvements.

These included the PDP layout, adding in custom fields to products and building the bespoke filter system. These were leveraged in both skoah Shopify Plus stores and optimized for US and Canadian markets. We created unique page templates to accommodate skoah facial locations, as well as moving their blog in to Shopify Plus as part of the migration plan from WordPress.

Art direction and photography
From mood boards through to art direction at the photographer's studio, we helped to create a custom set of lifestyle imagery for the new site that provide both beauty and utility for the user. To bring the in-store experience to life, we identified key moments in each facial to be captured. While product photography was shot in natural light and focused on real application providing a visual 'how to use'. Close up photography was created for ingredients to help tell the story of quality behind skoah products.